Road map to ABA! What is with all these waitlists?
Whether you are new to ABA or a veteran, it doesn't take long to realize that waitlists are a common occurrence in ABA. Just a few minutes of calling within your local community can reveal a list of awesome ABA companies who are "full" or working through a "waitlist." What's the deal?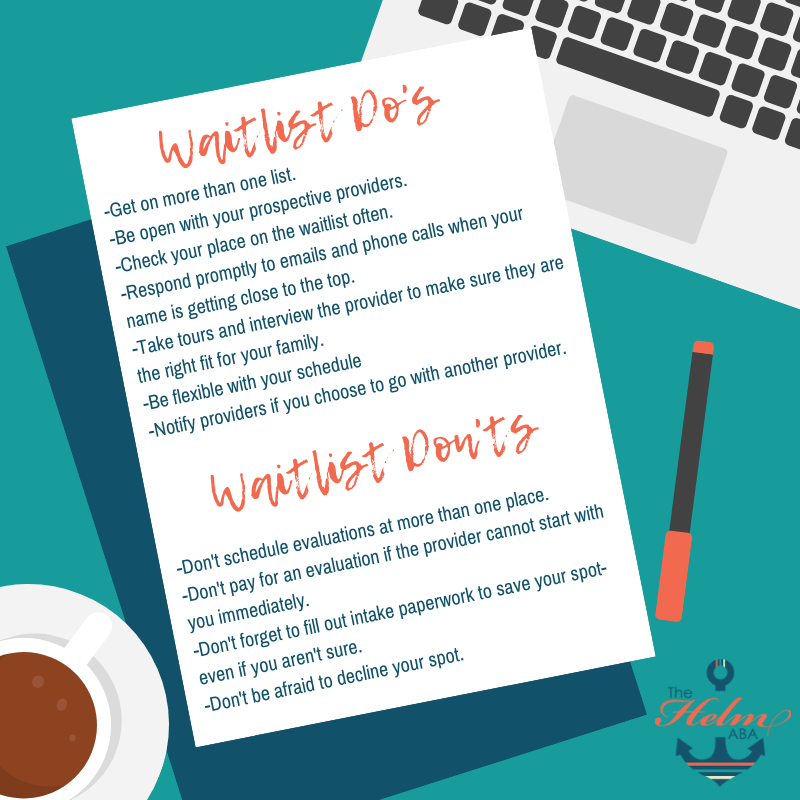 We all know that ABA has the potential to create huge gains in communication and behavior for children with autism, so why do we have to wait?
Waitlists happen for one main reason- supply and demand. Autism currently affects 1 in 59 children. Each Behavior Analyst (the supervisor for your child's team- see our previous blog on Key Players on your Child's ABA Team) is recommended to have up to 12 clients on their caseload. With over 118,000 children with the diagnosis of autism in Texas and only 5,665 certified Behavior Analyst there is a shortage of about 4,000 Behavior Analysts.
Even with increasing insurance regulations requiring ABA to be covered and new ABA companies popping up every day there is still not enough providers to meet the need. This shortage leaves many parents with the reality that a waitlist may be in their future to receive the services they need for their child.
At The Helm we speak with a lot of families each day who are just looking to support their child and start their journey with autism. It can feel hopeless to call provider after provider just to hear that there is a waitlist for 2 months up to 1 year. So what can a parent do to help the process along and advocate for their child's needs?
Here are biggest do's and don'ts when navigating the ABA waitlist!
Do
Get on more than one list!
Be open with your prospective providers. Let us know what you are hoping to get from therapy!
Check your place on the waitlist often- you are not bothering us! This lets us know you are invested!
Respond promptly to emails and phone calls from potential providers when your name is close to the top of the list.
Take tours and interview multiple providers to make sure the provider is the right fit for YOUR family.
Be flexible with your schedule when getting started. Your ideal schedule may be possible after a few weeks.
Notify providers if you chose to go with another provider. We are happy you are getting therapy!
Don't
Don't schedule an evaluation at more than one place-this isn't the best use of resources.
Don't pay for an evaluation if the provider cannot immediately start services. Evaluations should never be required in exchange for a spot on the waitlist.
Don't forget to fill out all the intake paperwork to save your spot- even if you're not sure.
Don't be afraid to decline your spot when your name gets to the top of the waitlist if you don't have a great gut feeling.
Still have questions? Call us today and let's talk about your child's needs and how The Helm ABA can help guide you to calmer waters.