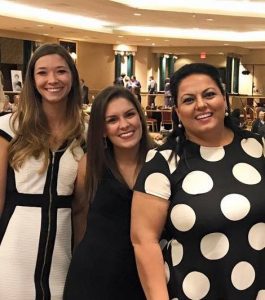 Autism advocate Nika Arastoupour, founder of local nonprofit organization Heart of Autism, has partnered with Dallas-area therapy center The Helm ABA to provide much-needed treatment and resources for children on the autism spectrum.
The partnership will allow The Helm ABA, which provides in-home services as well as some clinic-based treatment in its Lewisville office, to expand to a new location in Allen this spring, where therapists will be able to provide applied behavior analysis (ABA) treatment to more families in the area, said The Helm ABA co-owner and Director of Behavioral Services Sara Feldman.
"With this new location, we will be able to double the number of families we see, and in our new clinical setting, we can offer treatment and assessment in a whole new way," said Feldman, who is a Project Tell scholar and special education doctoral candidate at the University of North Texas.   "Every new child we see has an assessment to determine what kind of therapy would benefit them most, and this new center will be designed to be the ideal environment for that important meeting."
As a new partner, Arastoupour, whose son Mazy was diagnosed with autism at age 2 and inspired the founding of Heart of Autism, will provide The Helm ABA with a parent's perspective, which Feldman says will help her and her staff connect with families on a deeper level.  "As many connections as we have, we aren't parents of kids on the spectrum, and we don't have that insight," she said. "So with Nika we're gaining not only a partner, but also someone who is a parent and advocate who lives and breathes autism every day and has firsthand experience with applied behavior analysis."
Arastoupour's connection with The Helm ABA is personal – Lee Ann Jones, another co-owner of the Helm ABA and director of clinical services, was one of Mazy's first therapists. Arastoupour admired the way The Helm ABA treated its therapists. Rather than hiring them on an hourly contractor basis like many treatment providers, The Helm ABA provides each therapist with the opportunity to start not just as an employee, but as a valuable team member, which encourages long-term career building, Arastoupour said.  "We've been doing therapy for five years, and the long waitlists and amount of turnover among the therapists we saw was frustrating," she said. "I thought The Helm ABA's business model was genius, and I also loved that they use The Early Start Denver Model, a naturalistic approach that allows the kids a lot of opportunities to learn through play."
When the opportunity to partner with the company came up, Arastoupour knew this was her calling.
"The passion and drive that The Helm ABA shows for all people on the spectrum – adults, teenagers, kids and their families – says a lot," she said. "I'm thrilled to share my experiences and hopefully help make life easier for other parents. And I'm excited that we're expanding and helping more families by hiring the best therapists and cutting down on turnover. As a mom, that's the greatest blessing I can ask for."
http://starlocalmedia.com/friscoenterprise/news/heart-of-autism-founder-partners-with-the-helm/article_0529a6ea-ffb6-11e7-b841-1bd0ba092453.html#utm_campaign=blox&utm_source=facebook&utm_medium=social